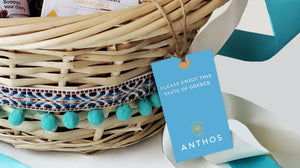 Gift Boxes and Baskets
---
Offer a special culinary experience to your friends, family, or business relations with an Anthos gift basket, or gift box. You can choose among our curated baskets and boxes, for which we have selected our most popular products, or you can create your own custom box or basket. Just add a custom box or basket in the size you want and then add to your cart the products of your choice. 

Both curated and custom gift orders are decorated and can be customized for any holiday or special occasion. 
Don't forget to add a gift note. The field is in your cart screen, in the special instructions box. 
Keep in mind that we ship from Pittsburgh, PA and UPS Ground Shipping to some destinations may take up to 5 business days to arrive. If time is of the essence please choose a faster shipping option at checkout. 
Gift baskets and boxes are made to order. Please allow up to 3 business days for the fulfillment of your order. During holiday season order processing time may increase to 5-7 business days.
Please reach out to us if you have any questions or concerns.