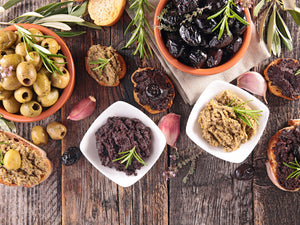 Olives and Tapenades
---
The Greek Nobel Prize-winning poet Odysseus Elytis wrote:
If you take Greece apart, in the end you will be left
with an olive tree, a vineyard and a boat...
Which means: with these three you can rebuild it
The olive tree has been sacred since ancient times and its fruit has given us life, health and lots of flavor. Containing all the antioxidant goodness of olive oil, Greek olives are delicious in salads, cooked dishes, or as appetizers; eaten whole, or crushed in a lovely tapenade.